A Cinephile's Guide to NYC
Describing NYC as "cinematic" is redundant.
Some of the most iconic American movie moments have taken place and continue to take place here. Heck, it's not unusual to spot the likes of Marisa Tomei or Idris Elba strolling around town between shoots these days, not to mention the endless production vehicles parked in the streets. (Be sure to peep at the "No Parking" signs, which list the titles of the production.)
The constant run of films being shot in NYC has certainly been a draw for cinephiles around the world, as have the daily guided tours of famous TV and film locations offered by companies like On Location Tours. There are also plenty of "self-guided" New York roundups online. We here at GrandLife are adding our own selection of eight favorite classic Manhattan movie locations into the mix, with Google map links and some insights.
The Movie: Rosemary's Baby, 1968
Built in the late 1880s on 72nd Street and Central Park West, this almost block-sized co-op apartment building with European-Gothic architecture goes under the fictitious name "The Bramford" in Roman Polanski's horror film about a woman who may be pregnant with a demon. Star Mia Farrow was only a resident of the building onscreen, yet in real life, The Dakota has been home to an impressive roster of artists and celebrities including John Lennon and Yoko Ono (she's still there!), Lauren Bacall, Albert Maysles, and Rosie O'Donnell… No actual witches, to our knowledge.
Sutton Place Park and Queensboro Bridge
The Movie: Manhattan, 1979
The image of two characters, played by Woody Allen and Diane Keaton, sitting on a bench with the illuminated Queensboro Bridge stretching dramatically into the distance is one of cinema's most iconic images and movie posters. Taken from the Upper East Side's Sutton Place Park along the East River, the spot is actually marked "Manhattan Bench" on Google maps. Yet the bench seen in the film entailed a temporary prop, so you'll have to make do with the relatively new set of permanent park benches when recreating the scene for your Instagram.
The Movie: When Harry Met Sally, 1989
To this day, customers recreate the famous "orgasm" scene in this bustling deli beloved by both locals and legions of tourists for its quintessentially NYC pastrami and corned beef. You can actually sit at the When Harry Met Sally table—marked by an overhead sign—when it's free or instead, recreate scenes from gritty crime dramas Donnie Brasco (1997), and We Own The Night (2007) elsewhere inside Katz's.  
View this post on Instagram
The Movie: After Hours, 1985
Speaking of lost NYC, Martin Scorsese's Kafka-esque dark comedy about a Manhattan yuppie (Griffin Dunne) stranded in SoHo, depicts a sketchy, bohemian artists' mecca of yore. Hardcore Scorsese-files should check out Complex's Cinematic Atlas: A Guide To Martin Scorsese's New York for even more locations from his films.
The Movie: Mean Streets, 1973
The graveyard of this Nolita place of worship, aka Most Precious Blood Church, appeared in Martin Scorsese's gritty, semi-autobiographical 1973 crime drama. Not to be confused with midtown's St. Patrick's Cathedral, this is New York's first Catholic cathedral, built over 200 years ago. Scorsese served as a choir boy during his youth at this cathedral, and now you can tour its creepy catacombs by candlelight. Who needs Paris?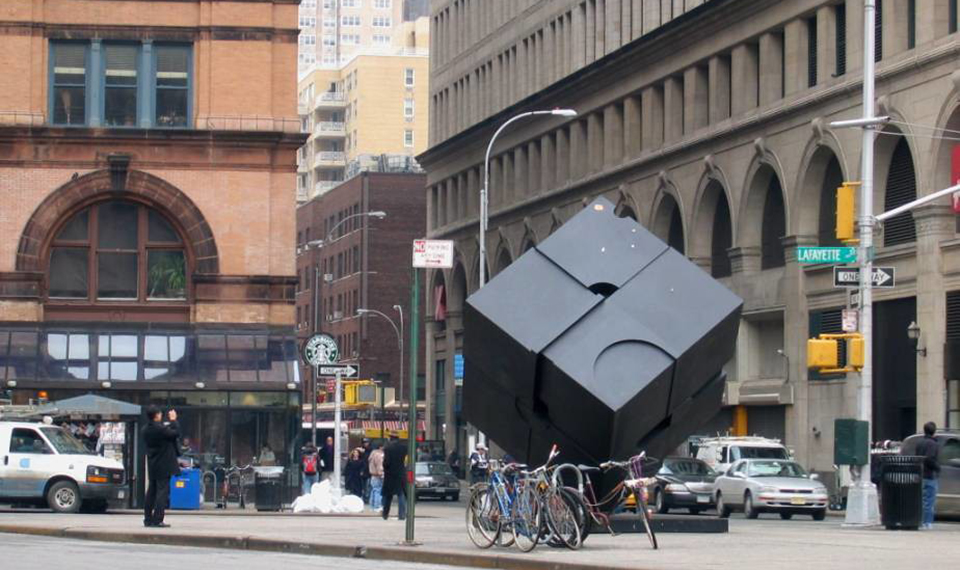 The Movie: Downtown 81, 1981
Late, great pop artist Jean Michel-Basquiat starred in this loosely plotted, rambling confection that effectively serves as a time capsule of NYC's East Village underground art and music scene, including an unrecognizable, crumbling, pre-gentrified Alphabet City and Lower East Side. One of its few still-existing landmarks is Tony Rosenthal's Astor Place Cube sculpture, featured in the background of a scene with a ranting David McDermott. Downtown 81's 2002 DVD release included in its extras, an interactive map of the movie's locations.
The Movie: Fatal Attraction, 1987
Glenn Close's unstable Alex occupied a loft in this pie-slice-shaped Meatpacking District building, wedged between 13th Street and Greenwich Avenue. Other films shot at this location include a pair of Al Pacino classics: Sidney Lumet's lauded biopic Serpico (1973) and William Friedkin's controversial gay murder mystery, Cruising (1980), both of which portray Pacino as an undercover cop.
View this post on Instagram
The Movie: Taxi Driver, 1973
Another Scorsese classic, Taxi Driver captured some seriously seedy '70s NYC, including this adult movie theater at 110 3rd Avenue (between 13th and 14th Streets) where Robert DeNiro's psychotic cabbie, Travis Bickle, comes across Jodie Foster's underage prostitute, Iris. While there was an effort to landmark the Variety, it was ultimately demolished in 2005 and replaced by a condo and generic ground-level businesses. You can always keep an eye out for locals DeNiro and Foster, though (we once spotted her shopping at Whole Foods a few blocks away on 14th Street!).
The location also provided the namesake not to mention the inspiration for director Bette Gordon's lo-fi indie drama from '83. While most of the interior theater shots were filmed at adult theaters around Times Square, the exterior of the Variety Theater with that bold neon sign provided the film's establishing shots.
WORDS Lawrence Ferber