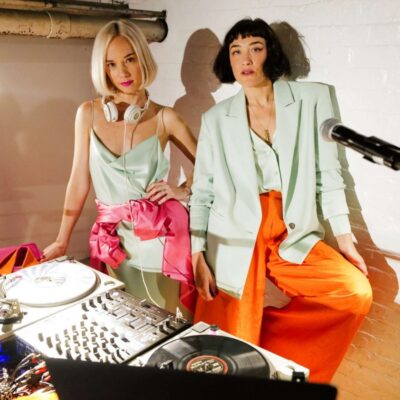 The Dolls
Occupation DJ/Violinist Duo
Hometown California & Florida
Current Residence East Village, NYC
There once was a little girl from California. She loved to play music for people and make them all have fun and dance. One day, she packed up all of her records and moved all the way across the country to the big city. Each night the little girl would work very late, and then as the sun was rising she would wander around her new neighborhood making her way home. The little girl loved to play music, but the lonely concrete streets made her sad. She missed her home where she'd often played barefoot in the sunshine. On one of her early morning adventures, she encountered another little girl, who was carrying a strangely shaped box. Inside the box there was a violin, which she took out and played. It made the most beautiful music the other little girl had ever heard. Suddenly, the music from the violin made the girls both so very happy and took away all their sorrow. From that morning on, they decided that they would never be apart. Hooked together for life, the girls resolved to travel the world making music, sliding down rainbows, riding ponies and taking away sadness from all the other lonely girls and boys out there.
WHAT WOULD THE TITLE OF YOUR AUTOBIOGRAPHY BE?
"Playing With Dolls"
WHAT CAN'T YOU TRAVEL WITHOUT AND WHY?
Moisturizer so the plane doesn't dry us out, an eye mask for beauty sleep, make-up wipes because we're lazy when we're tired, and clothes because there is no point in going out unless you go out in style.
WHERE IS YOUR FAVORITE TRAVEL DESTINATION?
New Orleans because Bernardo lives there; he makes us home made food and he's never out of whiskey.
IF YOU COULD CHOOSE ONE PERSON TO SHOW YOU "THEIR NEW YORK CITY" WHO WOULD IT BE?
Yoko Ono, so we could just listen to her talk for a day.
WHAT OR WHO HAS INSPIRED YOU RECENTLY, AND WHY?
Idiosyncratic fashionistas – we can't wait to grow up and be like these beautiful women!
WHAT ALBUM OR SONG WOULD YOU CONSIDER YOUR SOUNDTRACK TO NYC?
"Carry On" by Martha Walsh.

WHAT ARE YOUR FAVORITE BRUNCH SPOTS?
Flea Market on Avenue A, Roebling Tea Room in Williamsburg, and Roberta's in Bushwick.