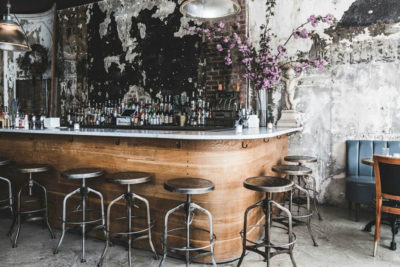 SEL RROSE
bars & nightlife
nolita
listings
Kristin Vincent is a pioneer in the south-of-Delancey no man's land near the Bowery with her latest venture, oyster and cocktail bar Sel Rrose. An homage to both early-20th-century Paris and the mid-19th-century Bowery, it's situated at the corner of Bowery and Delancey, and the double R is intentional. The name is a nod to Rrose Selavy ("eros, c'est la vie") a female pseudonym of writer and artist Marcel Duchamp.
Exterior walls of milky translucent white glass seem to glow from outside, although, as is de rigeur in these parts, there's no sign announcing the bar's presence. In warm weather, open doors beckon from two sides, inviting the low-key, downtown-cool clientele into blue leather banquettes and vintage-style barstools. The drinks highlight house-made syrups and antiquated aperitif liqueurs, and many, in French fashion, are fizzed-up with a dash of Champagne. There are oysters on the half shell, with usually a half-dozen varieties offered on a given night. The place is not always full—it's not a corner where many would expect a bar. But perched inside, it's hard not to think to oneself, 'here comes the neighborhood!"
Sel Rrose now offers a caffeine fix every morning, available via a coffee station that sits beside the restaurant on Delancey Street.