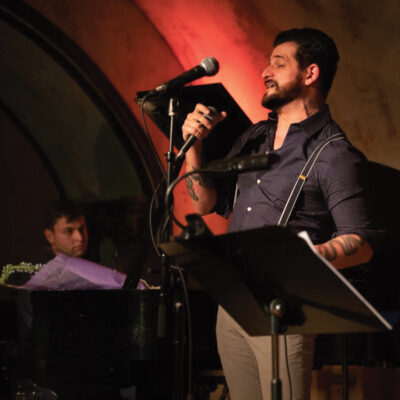 The Richard Cortez Band
bars & nightlife
entertainment
music
events
Where The Django 2 Avenue of the Americas New York, NY 10012 Map It
When Jul 14, 2022 – Jul 14, 2022
10:30-1:00AM

Reservations Reserve
Personnel:
Richard Cortez - Voice
Gabe Medd - Trumpet
Noah Halpern - Trumpet
Ruben Fox - Saxophone
Saul Dautch - Baritone
Robert Edwards - Trombone
Evan Main - Piano
Alex Tremblay - Bass
Eric Hallenbeck- Drums

In the true spirit of the Roaring Twenties, radically queer jazz song interpreter, Richard Cortez, spent the pandemic setting the underground music scene ablaze with his provocative and high-energy horn driven shows. Cortez, known for his ambition and extensive knowledge of The Great American Songbook, currently performs five weekly residencies with his band that features some of New York City's most celebrated jazz musicians. Richard breathes exciting new life into this beloved timeless material, forever reminding us that as we progress as a society - so do our stories told within these sacred songs.