New York Stories: Talking Head Chris Frantz Talks to Richard Boch
The man responsible for keeping dancefloors moving as the drummer for Talking Heads & Tom Tom Club has been hard at work writing his memoir. From art school to CBGB's & beyond—we get the lowdown. 
Chris Frantz is a drummer, writer, producer and DJ. He was born in Kentucky, educated in Pittsburgh and attended the prestigious Rhode Island School of Design where he met David Byrne and Tina Weymouth. He and Byrne soon formed the short-lived, aptly titled art school band, The Artistics. In 1974, all three headed for NYC, moving into a run-down loft on beaten-down Chrystie Street. With the addition of Weymouth on bass, they became Talking Heads. The trio kept busy writing songs and rehearsing, while just a few blocks away it seemed everyone was beginning to hang out or perform at a local dive on the Bowery called CBGB. Punk was born and between bands like Ramones, Blondie, Patti Smith, Television, and Talking Heads—the music scene downtown was exploding. By 1976, lighting was striking twice more times than you could count, and CBGB was packed nearly every night. Spring 1977—Jerry Harrison, a founding member of the proto-punk band the Modern Lovers, joined Talking Heads, adding keyboards and a second guitar.
I liked to stand at the CBGB bar in what would eventually become a mad crush, order another beer and wait for Talking Heads' next set. Drummer Chris Frantz and bassist Tina Weymouth would brush past heading in one direction or another. I figured the band was almost ready—ready being an understatement.
New York City 2020—Chris Frantz has written a memoir, Remain In Love, which takes us from those early days to now. Asking Chris a question that begins, "Did you ever think…" is so fully loaded, there's bound to be a million answers. That being said, let's go there.
Richard Boch: Hi Chris. In retrospect, there's so much to consider and it's truly amazing that there's so much going on in the now. Did you ever think this beautiful and oftentimes wild ride would still be happening in 2020?
Chris Frantz: We always hope for the best, don't we? As Tina said to Dick Clark on American Bandstand when Dick asked her what we hoped to accomplish with our band, "We want to make our mark in music history." Isn't it fantastic that we actually accomplished this and that thankfully, our songs still sound cool and hip today? We have been very fortunate. 
RB: It's certainly been a long, winding, and very interesting road you've traveled and there seems to be no sign of things slowing down. Putting aside dreams, hope, ambition and talent, did you ever think that one day you'd be considered a world-renowned drummer and the band would wind up in The Rock and Roll Hall of Fame?
CF: There was never any doubt in my mind that Talking Heads, and later Tom Tom Club, could and would succeed. I don't think the Rock and Roll Hall of Fame even existed when we were starting out, but how cool is it that both we and our friends the Ramones were inducted in our first year of eligibility? You can say what you will about the R&R HOF, but I can tell you that when you get the call that your band is going to be inducted, that is a happy day.
As for my drumming, I have no delusions about my technical abilities, but hello? I am the groove master. I defy any drummer to get the crowd dancing more joyfully than I do. Also, special thanks to Tina, being one of the greatest bass players of all time. Together we have rocked many a party around the world. 
RB: You and Tina Weymouth became this legendary rhythm section; you're married, have a family, and you've been working together creatively for well over 40 years. What an incredible love affair on so many levels. Thinking about now and looking back at then, tell me about meeting Tina. 
CF: I write about this in Remain In Love. I first met Tina at the Rhode Island School of Design in Richard Merkin's figure painting class. I was immediately attracted to her, but she had another boyfriend and I had another girlfriend. Still, there was no denying that I was smitten. There was something about Tina that was extraordinary. She was not only very beautiful, but also had a keen intellect, a highly developed artistic aesthetic, and she was a great dancer. I waited as patiently as possible for her to realize that I was the guy for her and eventually she did. I'm ever grateful that after 43 years of marriage, our love remains strong. 
RB: Let's talk about the book—Remain In Love: Talking Heads, Tom Tom Club, Tina. There's a lot of ground to cover in those pages, a lot of personalities to talk about and I'm sure a lot of mixed emotions. Looking back to RISD, CBGB, the protracted late '80s, early '90s break up of Talking Heads and the continued success of your and Tina's band Tom Tom Club, did you ever think that someday you would write it all down? How did it feel going there? 
CF: I'd been thinking of writing a memoir for many years. Three years ago I decided to get serious, buckle down, and do the work. At first, it seemed a daunting task to write an entire book. When I sat down to write, I had a crushing anxiety attack. But then I took a dropper full of organic CBD oil from Vermont, and presto, I relaxed and got to work. I wrote the book at home in Connecticut, in Bretagne, France, where we love to visit, and at Compass Point, the Bahamas, where we recorded so many amazing records. I've always enjoyed the process of writing, so after recovering from my initial apprehensions, I really had a ball writing this book.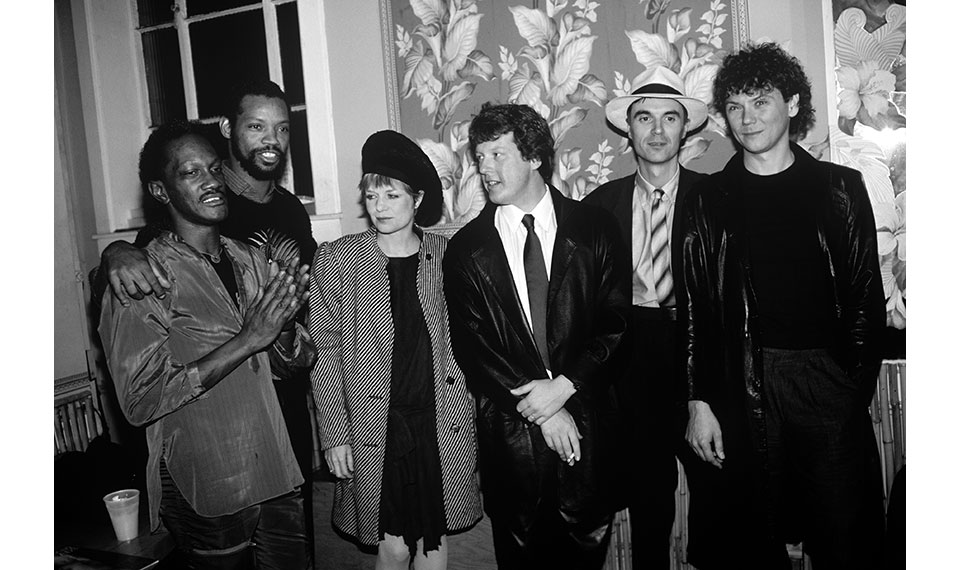 RB: These days the elephant or elephants in the room seem to be Covid-19 along with everything else going on in the world. How has it affected you personally, and, more specifically, the launch of your memoir?
CF: Tina and I have been sheltering in place since March. We can't take any chances. This virus can kill you. My mother succumbed to the virus in April. I feel badly for all the bands that had tours planned this summer. I feel even worse for the millions of good people who have lost their jobs and their loved ones. This has been a difficult time for all of us, but especially for those more vulnerable than others. My book's publishing date was postponed from May to July 21. There had been a book tour planned for the USA and UK. You and I had planned a launch party in the Club Room at SoHo Grand. I was so looking forward to that. Now, my book tour will be strictly virtual. I call it the Remain Online tour. Ha!
RB: Well, the last thing I'll mention is that I certainly hope we can get back into the groove of working together on more of those wonderful club nights at SoHo Grand Club Room. Between you spinning records in the DJ booth, me hosting—and everyone else dancing like crazy—who would've thought!
CF: Yes! The club nights you've hosted at SoHo Grand have been among the high points of the past couple of years for me and my friends. I am totally up for the next one whenever that may be. It's so great to see our old friends from the Mudd Club and CBGB's and to welcome our new and younger friends, too. I love it madly! 
RB: Thank you, my friend, and thanks so much for doing this. Big congrats on the book and I look forward to seeing it on bookshelves everywhere!
CF: It is I who should be thanking you, Richard. I'm looking forward to seeing my book on the shelves next to yours. It's my great pleasure to write this. Oh, and special thanks to all the good people at SoHo Grand, my favorite hotel ever in the city of New York.
You can buy a copy of Remain in Love—here.
Details for the Remain in Love virtual book tour can be found—here.
WORDS Richard Boch
FEATURED IMAGE Tina and Chris at RISD, 1974. Photo by Roger Gordy. All images courtesy of Chris Frantz 
Richard Boch writes GrandLife's New York Stories column and is the author of The Mudd Club, a memoir recounting his time as doorman at the legendary New York nightspot, which doubled as a clubhouse for the likes of Jean-Michel Basquiat, Keith Haring, Debbie Harry, Andy Warhol, Lou Reed, among others. Read Richard's Locals interview to hear about his favorite New York spots for art, books, drinks, and more.