One Way or Another: Debbie Harry Talks to Author Richard Boch
CBGB 1977, maybe 2am, maybe even later; it's a benefit for PUNK magazine and Blondie's onstage. The band is on fire tearing into a wild version of Willie Dixon's "Little Red Rooster." Chris Stein is seated with the guitar on his lap. He's playing it like a slide and the sound is something from beyond. Debbie Harry's prowling the tiny stage singing, "I'm a little red rooster, too lazy to crow for day." The room is practically spinning—or maybe it's just me that's spinning watching this incredible moment go down. More than forty years later, I can close my eyes and I'm right there. It's one of those memories.
Blondie started performing in New York City in 1974. Between the 1977 single "Rip Her to Shreds," 1980's "Rapture," and 2017's Pollinator, the band flipped the music world upside down and right side up more than once. Debbie Harry along with musical partner Chris Stein, long time bandmate Clem Burke, and a number of permanent, semi-permanent and short-lived band members have left their mark all the way from the Bowery to Havana. Now, with a long-in-the-works memoir Face It coming later this month, Debbie Harry is busier than ever. I'll let her tell you how she does it.
Richard Boch: Let me start out by saying hello, bypass the what's your favorite color or favorite anything questions and ask you about everything that's happening with you these days. All I know from what I see and hear is that you're very busy!
Debbie Harry: Hello Richard. We keep touring, recording and writing for Blondie, plus I've been working on a personal memoir, which I hope evolves into a second series of stories.
RB: I've followed the tour schedule this summer—Blondie co-headlining with Elvis Costello and The Attractions. There certainly were some high points, which I'll get to in a moment but let's talk a little more about your memoir, Face It. It's already available pre-order with an October 1 release date. Are you excited or what?
DH: I think I'm kind of thrilled about the book coming out. It's like a challenge that's done upside down and at the speed of sound. I don't want to think about the speed of light… just yet!
RB: Yes, we can pass on the speed of light for now, as things seem to move too fast as is. So, besides Blondie and the imminent release of Face It, I'm not sure if you realize that you're known for your generosity whether as a performer, a friend to many or, simply put, as Debbie Harry, a woman who likes to help out when she's able. What's it like being so accessible?
DH: Thanks for the compliment but I'm not sure I'm so accessible.
RB: Well, when I see you out and about regularly, whether it's a purely social occasion or throwing your support behind the work of a friend or a particular cause—the latter being something people admire about you—that to me is pretty accessible. You're a friend to many and an artist with a social conscience. Is it the friendships, the love in return, and the social conscience that drives you? I'll assume it's more than just wanting to get out of the house.
DH: Yes, I do have a conscience but I also don't think I do enough, which is probably a personality flaw.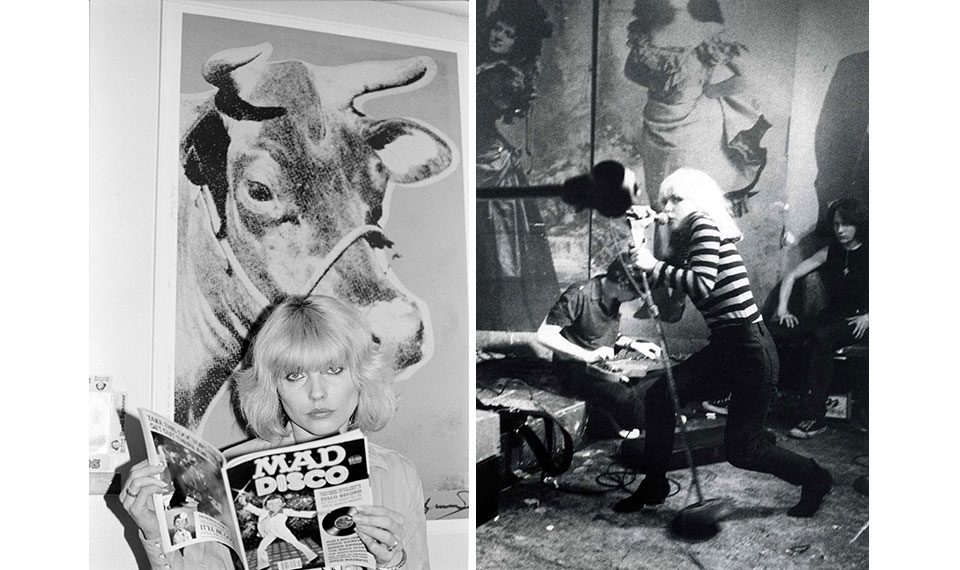 RB: Let's talk for a moment about New York City then and now; there's still a million things going on regardless of people screaming about how the city isn't what it used to be. Does what it used to be matter when it comes to making things happen today?
DH: Not for me because at this point I'm well known. A good question for a new artist, but that's all personal values, artistic integrity and rule-breaking.
RB: Everything about the city, downtown in particular, that influences creativity, as well as life in general, is still a powerful force. There's a sense of energy that you don't find anywhere else; at least that's how I feel. Do you still find yourself being influenced by that energy? Do you believe you're still contributing to that energy?
DH: Yes, I feel it too, and if I add to that—good!
RB: I'll either digress or regress at this point and ask your thoughts about places that really showed us who we were and what we were capable of. Places that felt like home to varying degrees. I'm talking about CBGB, Max's and Mudd Club; later on places like Mother, Don Hill's and Pyramid.
DH: Fortunately, clubs like these suited me. The morass of humanity and chaos of intentions was divine—which really had a lot to do with the size of the room, and the stage.
RB: I have to ask about your sense of humor and irony, and your ability to throw caution to the wind, as one might say. I remember cracking up the first time I heard "Rip Her to Shreds," and that's going back a bit. Then just a month or two ago I laughed out loud when I saw a photo of you onstage at a benefit wearing a t-shirt that read, "WHOSE JIZZ IS THIS." What inspires you to be so funny and fearless?
DH: Oh god, I just love a good sick joke, and I have always enjoyed a sophisticated sense of irony. Lucky me!
RB: Let's talk about Blondie a bit. The drive, the work ethic and the joy of seeing you all onstage is an inspiration to me. How does it make you feel?
DH: Excited, scared, lucky and challenged—are my favorite foods.
RB: Over the years, and even on your latest tour with Elvis Costello, I've heard the band cover everything from a nearly full set of the Ramones songs to Television, Iggy Pop and T Rex. The Blondie spin on those songs is terrific. Tell me about being a music fan and choosing songs to cover.
DH: All I can say is Chris is much better at this than I am.
RB: So Chris, Debbie seems to be giving you most of the credit when it comes Blondie's choice of songs to cover. Tell me your thoughts?
Chris Stein: I do pick a majority of the cover songs. Blondie has done so many it's hard to remember them all. My advice to younger bands is to do a cover that'll make a connection to the audience in a different way than unfamiliar material. There's no formula; I just like to refer to different things that I'm taken with. Plus, when I was a kid, I always loved hearing a favorite band cover something else.
RB: Thanks, Chris. I relate to the part about being a kid and hearing a fave band do a great or fun cover. It's still a great feeling—Blondie being a case in point. Whichever one of you recently chose to cover "From Russia With Love," the 1963 James Bond theme, it's brilliant!
Well, thanks Debbie for taking the time to do this. It's been a pleasure. Is there anything I forgot to ask?  
DH: Of course there is, Richard. I just wish I were as smart as Fran Lebowitz. I do know I am "In Love with Love."
WORDS Richard Boch