Ken Schles's Invisible City
The photographer's documentation of lower Manhattan during the '80s paints not only a portrait of grit and decay but the close-knit sense of community and restless, uncut spirit of the time.
Ken Schles moved to the East Village in the late '70s and picked up a camera shortly after. He began chronicling his neighborhood, his coterie of friends, and the places they went to smoke cigarettes and hang out. In doing so, Schles captured not only the bleak and deteriorating physical landscape of lower Manhattan but the unvarnished, free-spirited atmosphere of the time, much of which can be seen in his monographs Invisible City and Nite Walk. We recently caught up with the photographer to reflect on downtown New York in the '80s, the motivation behind his work, the New York bookstores to check out, and more.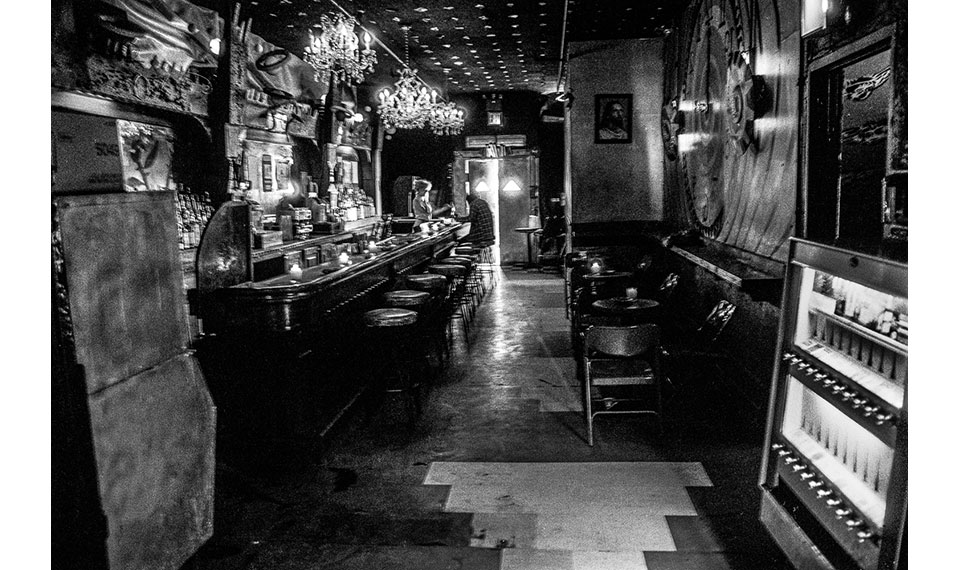 Can you tell us about your invisible city—the East Village and Alphabet City as you knew it during the '80s?
Ken Schles: New York in the 1980s was not, um, a pretty place. But then, that wasn't why you were there. I moved to the East Village in 1978 to go to art school at Cooper Union, just at the end of the Bowery. Back then, it seemed as if the city was dying. All the media was rushing to see who could write its obituary first. There were the blackouts and riots just the year before. Vast areas were written off and abandoned. The city was struggling with bankruptcy, de-population, post-war de-industrialization and lawlessness. Violence permeated every crack in the sidewalk and there was the stench of intractable poverty wherever you turned. New York was the bane of America. Americans hated New Yorkers and New Yorkers lived in a world apart, almost reveling in the smug knowledge that they were despised. But having been a lifelong New Yorker, I couldn't see past the sneers and didn't understand why. We were just struggling to make things work.
Just before I made Invisible City, I lost my apartment when my roommate, my friend Charlie, developed a heroin habit and spent our rent money on dope. I was away for a few months and when I came back I discovered rent had not been paid. The lease was in my name and the landlord told me he'd sue: pay up or relinquish the apartment. It was a difficult time for me. I went through a break-up and struggled with setting on a direction where I saw no obvious path forward—at least economically for a kid with an art degree. Artistically, I had history behind me—there was a legacy of downtown photographers and artists that started before the Dadaists and historically worked on through the post-war abstract expressionists, pop-artists, minimalists and Fluxus performers, the New York school of photography. And then there was all the music that moved through the Village from jazz to folk to no-wave experimentations and the early rumblings of hip-hop. Electric Ladyland, Fillmore East, The Bottom Line, The Palladium, CBGB's, and Max's Kansas City were there or just had been.
When I "landed" I ended up in a run-down tenement on Avenue B. I was stepping into the world in the time of AIDS, in the age of punk and no-wave, when the streets (or at least the part I inhabited) were run by drug lords and populated by the insane and those made insane by a late-capitalist cold war existence: a last pre-internet bohemia amid the immigrants and outcasts. But even in the wild despair of it, we made it our own with or maybe because of our desperation, our hope and our impossibilities. It was an invisible world hidden from the wage slaves living above 14th Street, and the masters of the universe down below on Wall Street. I felt there was a story to be told. Our story. Nothing I referenced seemed to be talking about what I was experiencing and seeing around me. So I photographed my invisible city.
Your photographs capture the grit and decay of lower Manhattan as well as the sense of community and the restless, uncut spirit of the time; what fueled your need to constantly document your surroundings in terms of both atmosphere and physical landscape?
KS: I think as creators we explore things we don't understand in order to make sense of whatever it is that boggles our minds or amaze us. The constant part is that I have to repeatedly remind myself of the present and try to find how I can best describe its presence—how to express the weight of that reality….My photographs place me in a specific place and time and involve me with things I am paying attention to in the moment. My images say, I am here. The irony is that images, flashed on a screen or printed on a page or framed on a wall, become something external to my lived experience. They then become not the present I am trying to express, but only a marker along the way. So I have to start again to (constantly) engage the process. I'm reminded of the medical story of that person who lost his hippocampus and couldn't form new memories. Every moment was a revelation. Every moment of his waking life he would marvel, I am alive. Now. For the first time, I am. Now. Alive. A photograph is like that. It has a kind of fullness about reality, but you see nothing of what came before and you can't know for certain what came after. It exists as a marker of a deep eternal present. There is little context. But it is, in its fullness, something: something in itself, something to be shared and something to be disseminated.
Are you driven by the same motivations today?
KS: Yeah.
Your photographs chronicled in Invisible City and Night Walk are shot in 35mm black-and-white—what was the reasoning behind this decision?
KS: Black-and-white was the most practical. But not all of it was 35mm. In Invisible City there are a few 4×5 images, as is the back cover of Night Walk. But, yes, the bulk is 35mm black-and-white. It was what I could process in my rather primitive apartment kitchen and a limited ability for temperature control. Black-and-white film had a faster ISO and allowed me to shoot in lower light situations—and 35mm was very portable, I could take a lot of rolls of film with me on an evening out. And it was a lot less expensive to shoot and process black-and-white film as opposed to color.
From what I've read and heard about downtown New York in the '80s, the creative community was deeply interconnected; to what do you attribute the collaborative spirit back then?
KS: Deeply interconnected… collaborative communities… well, affinities tend to seek each other out. It makes perfect sense that people exploring similar creative avenues would create creative communities based on proximity and common aesthetic ground. We struggled under similar conditions more or less. So in that, very tight friendships were made. But in my experience, it wasn't always so simple. For sure, communities arose and alliances were formed. And the world was small enough that you could know most everyone. But people were also highly competitive. There were limited resources and few outlets for engagement and distribution, so things could also get a bit territorial. Back then it wasn't like current social models informed by Internet culture where everyone likes something or wants to be your friend.
Generally, I'd say people were more skeptical and critical. Everyone had an opinion and let you know what it was. Circles could get deeply cliquish. There were fiercely guarded barriers that delimited access both socially and physically. There were definitely insiders and outsiders, power brokers and sycophants, bridge and tunnel people and locals. People could be exceedingly harsh, dismissive and deeply indifferent. Drugs and money and mortality heightened the stakes all around. New York, after all, did have this reputation. Punks weren't the first insouciant bohemian New Yorkers. Nor were the drag queens dancing at the Pyramid. Dorothy Parker didn't arise out of a vacuum. The person working the door at a club would choose who could come in. I think that's both a good example and an apt metaphor for the hierarchies that came into play at the time.
Do you have a favorite photograph taken during this time? Tell us about the situation in which it was taken…
KS: I don't tend to like to answer that question, but I'll answer it here to just say it's one of my favorites. There is a photograph of a young shirtless African American child alone at night on an abandoned street in Invisible City. A few drug dealers mulling about under streetlights far in the distance about a block away. The street is torn up. It's almost like you can feel the heat of the night air. The buildings are, for the most part, abandoned and dark. There's no life inside of them. It was shot on a rare cul de sac, East 5th Street between Avenue B and C. It was the 4th of July, 1984. It was quiet except for a lone car or two and the sporadic staccato of fireworks randomly exploding in the distance. I was on my way to visit friends who lived in one of the only buildings inhabited on the block. This was the America this young man was growing up in. This is the "great country" we live in.
Being a longtime lover of books, can you share some of your favorite bookstores in New York, and the types of books one can expect to find there?
KS: Well, first and foremost I have to give a shout out to the Strand. There's no place like it in the world. I worked there summers (and sometimes winters) to help me make it through school starting around 1979 when I was still a teenager. Patti Smith used to work the Social Science section before her performing career took off. I first heard of Lewis Mumford from a quote that was written on the bathroom wall: "Life masquerades as pathology in New York City. — Lewis Mumford, 1928," if I remember it correctly. It was pre-computer, pre-air-conditioning days. It's where I got my first photo books and, I have to say, nice to sometimes see my books there now both in the stacks and in the rare book room. I'm a big fan of local bookshops so I'm going to plug a couple here in Brooklyn. There's Unnamable in Prospect Heights, Greenlight in Fort Greene and The Center for Fiction closer to Downtown Brooklyn. They're all unique in personality and feel. I encourage you to explore and discover them for yourself. They're amazing resources for inspiration or to browse on a rainy day.
What do you do when you're not taking photographs?
KS: Fight the power, work for a more sustainable and equitable world. Well… I photograph that too.
WORDS Edwina Hagon
PHOTOGRAPHY Ken Schles