Dimes Times: Emotional Eating
Our favorite Chinatown restaurant released a cookbook! Chef-owner Alissa Wagner gives us the lowdown and shares a spring recipe.
For many downtowners, Dimes has long been an extension of their own apartments—a casual and satiating home away from home where one can observe, experience, and digest New York City life. Now, alongside Dimes's various outposts and offerings, the team has released Dimes Times: Emotional Eating, a collection of more than 50 recipes from menus past and present. As noted in the opening pages, "The book is as much a collection of recipes as it is an ode to New York and the people who make this part of the city their home." 
We recently caught up with chef and owner Alissa Wagner to get the lowdown on the book's genesis, what they set out to achieve, and why community is at the heart of what they do. Wagner also shares the recipe for Dimes' Spring Salad, which as she says, "Is a celebration of all things new, after a long, cold winter." We're into it. 
Tell us about the genesis of the book. What spawned the idea? What did you set out to achieve? 
Alissa Wagner: Writing a cookbook has been one of our dreams since the early days of Dimes. After our initial growth spurt, expanding from a small six-table restaurant to three storefronts, we felt the time was right to begin something new. We wanted our book to bring a fresh voice to the conversation and offer a unique perspective; to be more than a traditional cookbook. 
With six years' worth of recipes to choose from, I can't imagine the selection process was easy. How did you determine which made the cut? Were there any specific criteria? 
AW: It was very tough at first, but after a lot of discussion we decided to focus on the classics with a few new recipes just for the book.   
Why did you choose to make emotional eating the key theme? To what extent has the concept of eating based on mood played a part in the Dimes narrative? 
AW: From the beginning, we knew we wanted to present "a day in the life at Dimes" but trying to organize that on the page was a challenge. We started with the obvious: time of day—but wanted to make it more personal than that. As we bounced ideas around and shared stories from over the years, we turned to our staff who have seen it all. They've witnessed breakups, business meetings, first dates, celebrations, and what each person orders is tailored to fit the emotion of the setting. A breakup: alcohol and little more; business meeting: "Just a coffee, please;" celebration: three courses and champagne, of course; first date: nothing messy. A meal begins and ends with emotion. 
The story is told from the perspective of a Dimes regular. What was the thinking behind this decision?  
AW: Dimes has always been a place driven by our regular customers, a neighborhood spot. When we opened Dimes we always wanted to have strong ties with our local community, so it just made sense. 
Dimes has always exhibited a sense of playfulness through bold interiors, colorful menus, and now the creative direction of the book. How do playfulness and boldness feed into Dimes' approach to food? 
AW: We're always finding ourselves saying, "Make it fun, make it weird". Food should be approachable, enjoyable and not too fussy, and hopefully bring a smile to your face, which is why we named our paleo-inspired breakfast dish the "Encino Man," a nod to the Pauly Shore movie.
Any tips for setting the scene when cooking at home for loved ones? 
AW: Make it a family affair. Give everyone a job to do so that everyone is included in bringing the meal together.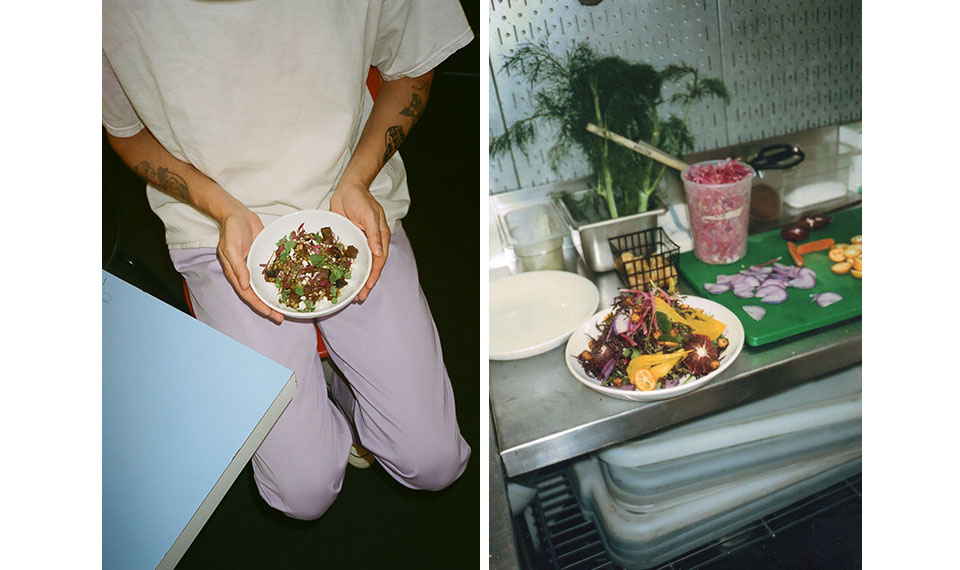 Can you share a favorite recipe from the book that is suited to this time of year?  
AW: We could all use a fresh start right about now, and the Spring Salad will get the job done. It's a celebration of all things new after a long, cold winter. 
SPRING SALAD
Serves 2
JAR DRESSING:
1 cup seasoned rice vinegar
1/2 cup extra virgin olive oil
2 tablespoons dijon mustard
1 teaspoon salt
1 clove garlic, grated or finely minced
fresh black pepper, a few good cracks
SALAD:
4 asparagus spears, roasted and chopped
1/2 cup English peas, steamed
1/2 cup radish, sliced
1/2 cup roasted wild mushrooms sliced into bite-sized pieces
1/3 cup pecorino, shaved or grated
2 tablespoons sunflower seeds
4 cups leafy salad greens (such as little gem, baby romaine, or leaf lettuce
Place all dressing ingredients in a jar or other tightly closed container. Shake until fully combined.
Place salad leaves and radish in a large mixing bowl and drizzle with freshly shaken jar dressing. Gently toss the leaves with tongs or hands until all leaves are lightly coated. Season with a little salt and pepper. Toss in the rest of the ingredients and add a little more dressing if needed.
Serve in your favorite bowl and enjoy.
WORDS Edwina Hagon 
PHOTOGRAPHY Mary Manning