Beastie Boys: A New York Story
Michael Diamond and Adam Horovitz recall the birth of hip-hop, Adam Yauch, and the DIY ethos that made Beastie Boys so original.
The Beastie Boys just scored another number one, this time on, of all places, The New York Times' Best Sellers list. That's right, the hip-hop icons are now New York Times bestselling authors. But lest you think they've gone soft, Mike D. and Ad-Rock are just the same as when I met them in the mid-80s, first at parties at New York University, where their future producer, Rick Rubin, was running a record label out of his dorm room, and later while smoking weed with members of The Ramones and Big Audio Dynamite the night the Beasties opened for Mick Jones's post-Clash band at the infamous World nightclub in the then deep recesses of Alphabet City.
Today, they're still loud, brash, funny and full of life, but they've also logged a lot of miles in the intervening years, with epic highs and crushing lows—not least of which was the loss of the heart and soul of the Beastie Boys, Adam Yauch, to cancer in 2012.
All of it is covered—with the characteristic flair you'd expect from a couple of middle-class kids who turned the music world on its ear in the late '80s, and who helped usher hip-hop onto the charts and into the mainstream—in Beastie Boys Book and the fantastic, all-star audiobook version, which includes guest turns by everyone from Will Ferrell to LL Cool J, and is sure to be a Grammy contender in the Spoken Word category come February. The book—part oral history, part cookbook, part graphic novel, and so much more—also serves as a love letter of sorts to Yauch, who had long wished to ensure the Beasties a rightful place in the cultural history of the late-20th century by conquering the documentary film and book worlds with their story. As Yauch saw it, for more than 30 years, the Beasties had an inescapable and indelible influence on popular culture. Beastie Boys Book lays out why, in all its colorful glory. So for now, at least, one of his wishes has come true.
Formed as a New York City hardcore band in 1981, Beastie Boys struck an unlikely path to global hip-hop superstardom. Beastie Boys Book is their story, told for the first time in their own words. From the revealing and hilarious accounts of their transition from teenage punks to budding rappers; their early collaborations with Russell Simmons and Rick Rubin; the debut album that became the first hip-hop record ever to hit number one, Licensed to Ill, and that album's messy fallout as the group broke with its label, Def Jam; the subsequent move to Los Angeles, and rebirth with the genre-defying masterpiece Paul's Boutique; their evolution as musicians and social activists over the course of the now-classic albums Check Your Head, Ill Communication, and Hello Nasty and the Tibetan Freedom Concert benefits conceived by Yauch.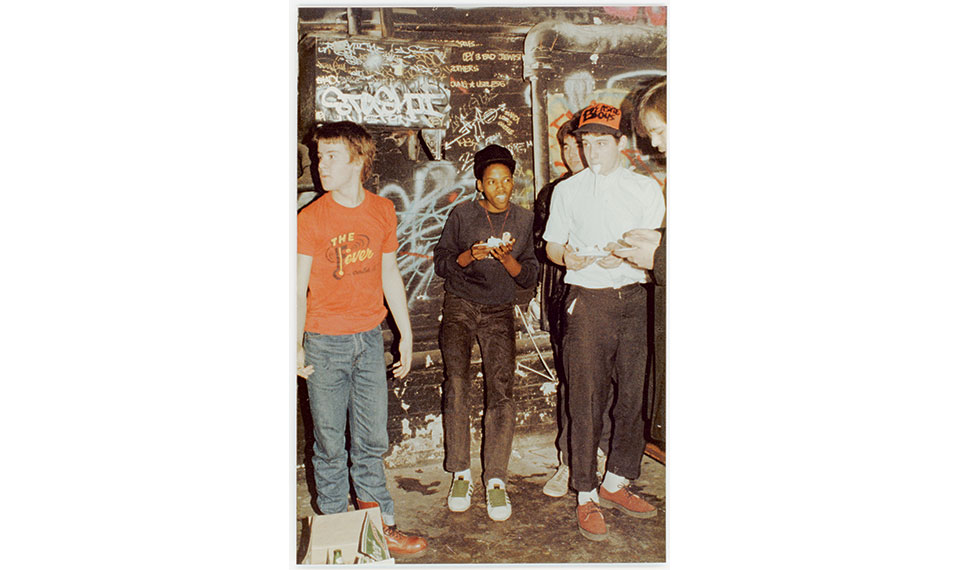 "Well, in the end, it was kind of like hip-hop in a sense. One of the things that we loved about hip-hop and rap music was that, with sampling, you could take anything, and make anything work," says Diamond of the pair's approach to the book. "Hip-hop takes from wherever works, and we kind of thought, we're gonna do that, and tell our story with whatever means necessary. Like, literally, if it's a [section that's a] graphic novel, fine. If it's a photograph that reflects what we're trying to say, fine. If it's getting an illustrator to illustrate that story. Fine."
"There's a lot of things that we didn't end up doing," Horovitz says with a sigh. "Mike wanted to include an iron-on in the book and a flexi-disk. A bookmark that had a picture of Mike doing the walk dance. We were going to have a flipbook that went all the way through with the robot. We had a lot of ideas."
In the end, and in keeping with its authors' longstanding ethos, Beastie Boys Book is unlike anything that's come before it and ultimately rewrites the rulebook for how a major artist can approach telling their story if their ideas are bold enough. In fact, Diamond and Horovitz were so full of ideas, they left a near complete second book on the cutting room floor. "We have a whole other book called Funny to Us that includes all the things that happened to us—all those weird, funny aside things—that couldn't necessarily be part of the story that ended up being the book, but that were still important to us."
Not surprisingly, since his dream was the original impetus for the book, and since he was in many ways the heart and soul of Beastie Boys, Yauch looms large in the book, even though, whether here or not, his ego surely wasn't spared in the telling. "Well, I thought people should know that he blew up his backyard as a child," confesses Horovitz. "I thought that was important. So we didn't spare him. He wouldn't have wanted that."
"I'm sure there are a couple of things where he would have been like, Really, why did you say that? But we all feel that way as people as we get older," adds Diamond.
Still, Diamond and Horovitz chose not to take the path that so many bands have when a member is no longer around, using archival interviews to represent their voice. "Early on we talked about that," says Diamond. "But Yauch was a lot of things, and that wouldn't have been honest. Yauch was the original inspiration for us doing the book because he loved the documentary of The Who called The Kids Are Alright, and template-wise, that really was Yauch's vision. The way that was different from other concert films was our premise: Okay, if we make a book, it has to be as different from a band book as that was from a concert film. So we had his voice in there that way. But I remember going into meetings, and going through interviews, seeing if we could get Yauch in that way. The thing is, for us, that's not really Yauch. Things falling out of his hotel room window? That part of the book represents him more than any archival piece could. Spike Jonze talking about all of us putting on costumes and going out, and just how that was what we did for fun? That represents him better."
It makes for a fantastic read, and a great representation of a now bygone era in New York City and hip-hop for anyone who remembers those days and, especially, for those who weren't there but who seek a glimpse into what it was all about.
As we part, Diamond returns to where we began. "Really, the mission was, even when Yauch was still alive, to make a band book," he insists. "It was never about telling one of our stories versus another, and that gets back to the 'whatever means necessary' ethos. We wanted to just convey that band story. So if Adam remembered a little bit more of a part of the story, great. If I remembered more of that story, then I could write it. If those memories conflicted, even better. Because we always did it that way, so why change that formula now. We honored Yauch's vision and did this for him. That's what it was."
WORDS Jeff Slate