The Art Bars
"Whether it was Mickey's, Magoo's, Barnabas or Mudd, we all lived in those places." Author Richard Boch recalls the New York hangouts of yesteryear.
Summer 1976. I was living on Bleecker Street, across from the Village Gate. It was a wild time; everyone was young and the Village was hanging on to a Bohemian last stand. I was just out of college and driving a red VW Super Beetle, 1974 vintage. My friend Sue and I were out for a ride and heading south on a dark lonely stretch of lower Broadway toward Chambers Street. We were searching for The Lower Manhattan Ocean Club, a new bar opened by Max's Kansas City founder Mickey Ruskin. Smoking a joint and thinking back to my middle-teen wonder years of the late '60s, Max's had always existed as some sort of Holy Grail, the latest birthplace of beyond cool. The place opened in 1965 on a deserted block of Park Avenue, just north of Union Square and now, ten years later, Mickey was still one step ahead. He always believed that money followed the art, even if it meant cabbing it nearly a dozen blocks below Canal Street to Chambers. It was still a non-neighborhood and largely uncharted territory, at least to me.
Max's had already staked its claim as the art bar of the decade, if not the century, where the worlds of Pop, Color Field and Concept were lined up at the bar and hanging on the walls. The place was somehow both elitist and democratic, ironic yet obvious in all the best possible ways. Now The Ocean Club, as everyone called it, was about to see if lightning really could strike twice.
Driving those 20 blocks south of Bleecker, Sue and I finally landed on Chambers Street near West Broadway, parked the car and strolled inside. The place was packed and everyone was there. Mickey Ruskin was in position at the end of the bar sipping a Sauza Conmemorativo. Ellen Barkin was waiting tables. Lou Reed, John Cale, David Byrne, and Patti Smith were on the small stage at the back of the dining room. We stood there watching and listening as lightning struck twice.
Back then I was still just a kid from Long Island with a car I drove in college and a version of a high school girlfriend at my side. Trying hard to be bad while having a good time, I was staring at my future without knowing. I was never sure if I could get in, no less fit in. Eventually I did, though fitting in was another story.  
November 1977 came the leap of faith. I moved from Bleecker Street to Murray Street, leaving behind a third-floor walk-up with a bathtub in the kitchen and moving into 2000 square feet of raw space. Bleecker was the thick of it, just a few blocks east of CBGB where the world had already exploded. Murray Street was at the south end of a neighborhood called Tribeca. It was a nether region and walking home at night seemed like a long walk to nowhere. That would soon be changing.
History and legend tell us all about the alcohol-soaked Cedar Tavern in Greenwich Village, famous for the drunken antics of Pollock, Kline, de Kooning and the entire gang of Abstract Expressionist maniac geniuses. Other old-school hangouts like Fanelli's in SoHo had been around forever but by the mid-to-late '70s, the art world was southbound. Living and working way downtown, there was a need for newer yet time-warped, drunken playpens like the art bar pick-up dives Barnabas Rex, Magoo's and eventually Puffy's Tavern. Barnabas was a not-quite-after-hours hole in the wall on Duane Street that seemed to attract a mixed crowd of artists, athleticism and alcohol lovers. There was a pool table crammed inside and a volleyball net outside that stretched from sidewalk to sidewalk on warm-weather summer weekends. Magoo's, a few blocks north on Church Street, was a bar and restaurant with art on the walls, a crazy bartender and an alleged brothel on the second floor. Twenty-year-old artist, party girl and Whitney ISP attendee Jo Shane was deep in the mix along with Charlemagne Palestine, Ron Gorchov, Don Christensen and Richard Serra. When you finished eating a burger and throwing down a few drinks at Magoo's you could head for Barnabas or The Ocean Club for a round of last call desperation before crashing the night into tomorrow.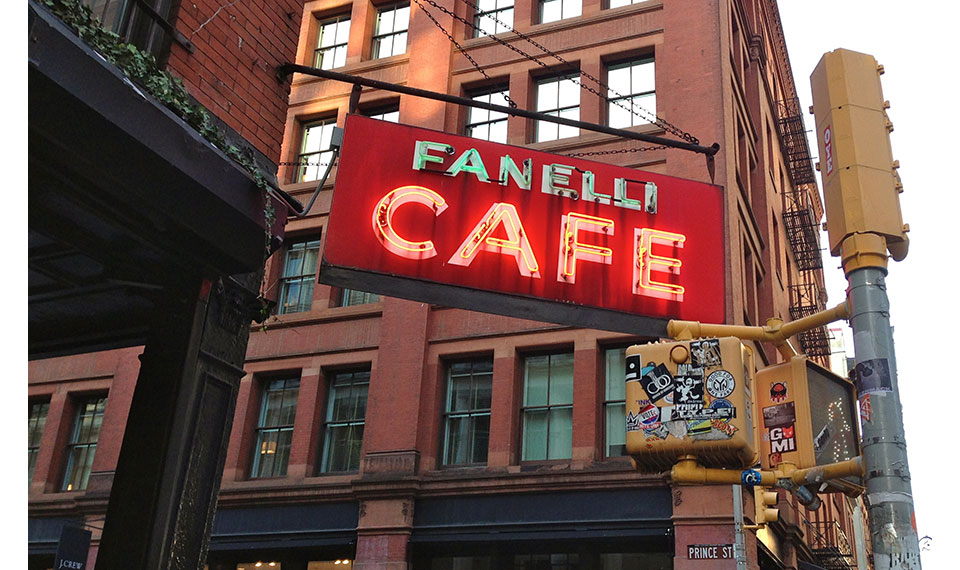 In September 1978, Mickey Ruskin left Chambers Street, moved to One University Place and opened Chinese Chance. It was another wild success but would be his last go-round. Six weeks later the Mudd Club opened on Halloween in a nondescript, six-story loft building owned by the artist Ross Bleckner, located at 77 White Street. The B-52s, a new band from Athens, Georgia, was the opening night headliner. The cover charge was $2.52. The club itself was conceived by aspiring filmmaker and ambulance service operator Steve Mass, curator and provocateur Diego Cortez, and the volatile and uncensored Anya Phillips. The Radical Three, so labeled by artist and Bush Tetras guitarist Pat Place, told Bleckner they were opening an art bar!
Future Mudd Club alumni Jean-Michel Basquiat and friends were by then hanging out at the blue-collar dive, Four Roses, a few blocks west of the club. The painter, illustrator and JMB associate Julie Wilson recalls the Four Roses artless non-décor, with the exception of its neon American flag. It was an art bar by association rather than intent. Artist Ronnie Cutrone, the Warhol associate and assistant, could be found sucking down a soda at Diamond Lil's, the topless and often bottomless bar at the intersection of Canal Street and Cortlandt Alley. Lil's was artful in its own sweet way.
Whether it was Mickey's, Magoo's, Barnabas or Mudd, we all lived in those places—drinks were cheap, the bathrooms dirty, the locations prime. Walking home through the curbside rubble of discard, my loft was just a short stumble away. Street life and traffic was scarce; daytime still somewhere over the East River.  
Today Tribeca and SoHo are barely recognizable unless you read between the lines that mark streets and sidewalks. Walking those streets I still think about The Ocean Club and Mudd Club and everything in between; those places and days long gone, but we're still here.
WORDS Richard Boch